According to data acquired by the BBC, men continue to earn more than women.
The salary gap is at 9.4%, the same as it was in 2017–18 when businesses were first forced to report figures, despite ongoing efforts to promote equality.
The information is based on the wage discrepancy between middle-ranking men and women, or the so-called "median" pay gap.
This is distinct from unequal pay, which is defined as paying women less for the same amount of work.
Companies, nonprofits, and government agencies with 250 or more employees are required by law to post their gender pay gap statistics on the Gender Pay Gap Service website.
It is a part of a government attempt to compel companies to disclose compensation practises more openly. 10,217 employers had submitted their reports by Wednesday morning.

The latest data is "terrible news," according to Romi Savova, chief executive of pension service PensionBee, adding it is "quite astounding" that the gender pay gap hasn't changed in five years.
According to Ms. Savova, the "primary reason" for the disparity was the fact that major firms had "unambitious aims" for placing women in top roles.
She claimed that many rooms still had uneven numbers of people occupying and being depicted in them.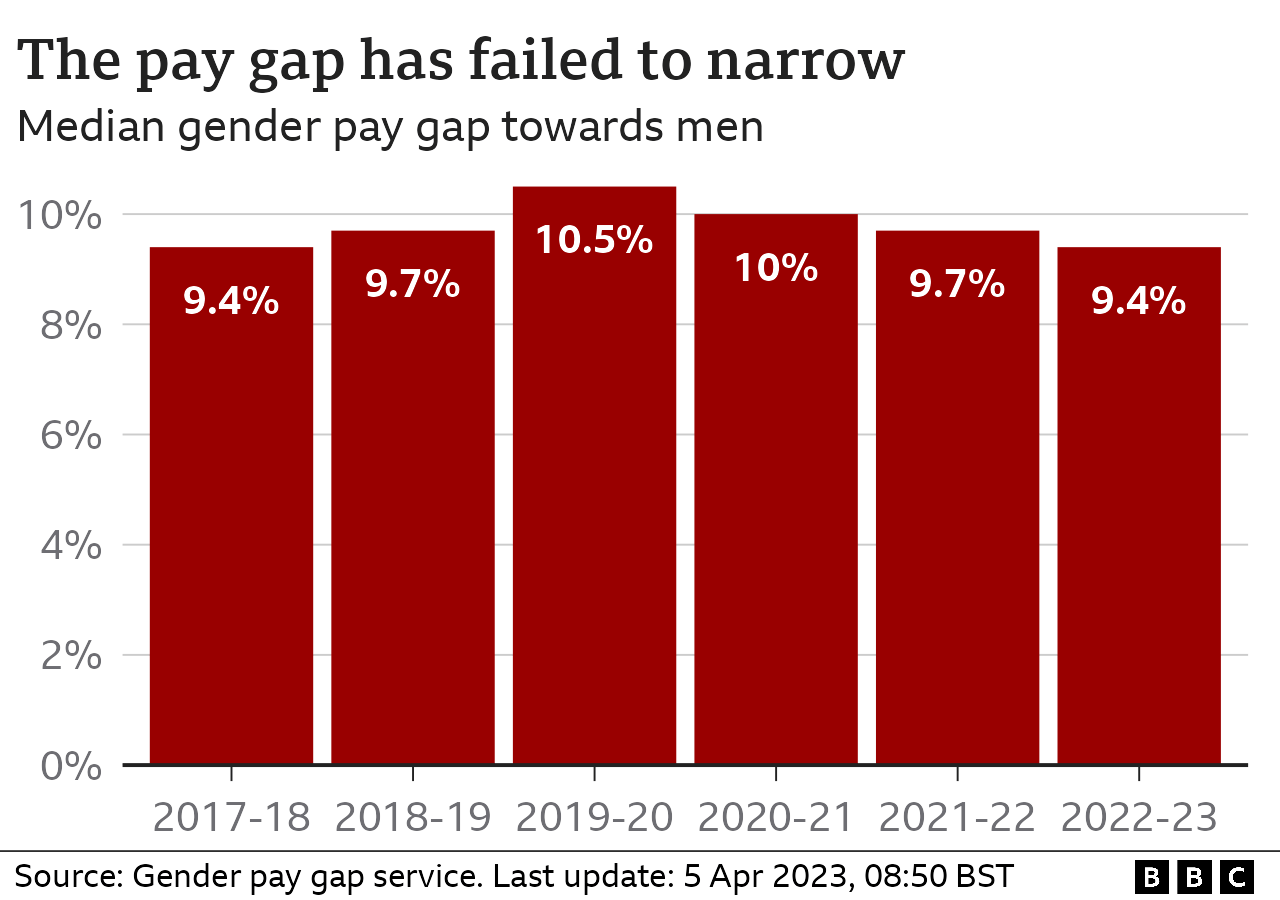 The worst offenders are still in banking and finance, where women make an average of 22.1% less than their male counterparts.
Just 0.4 percentage points have been lost in the industry's gap from five years ago.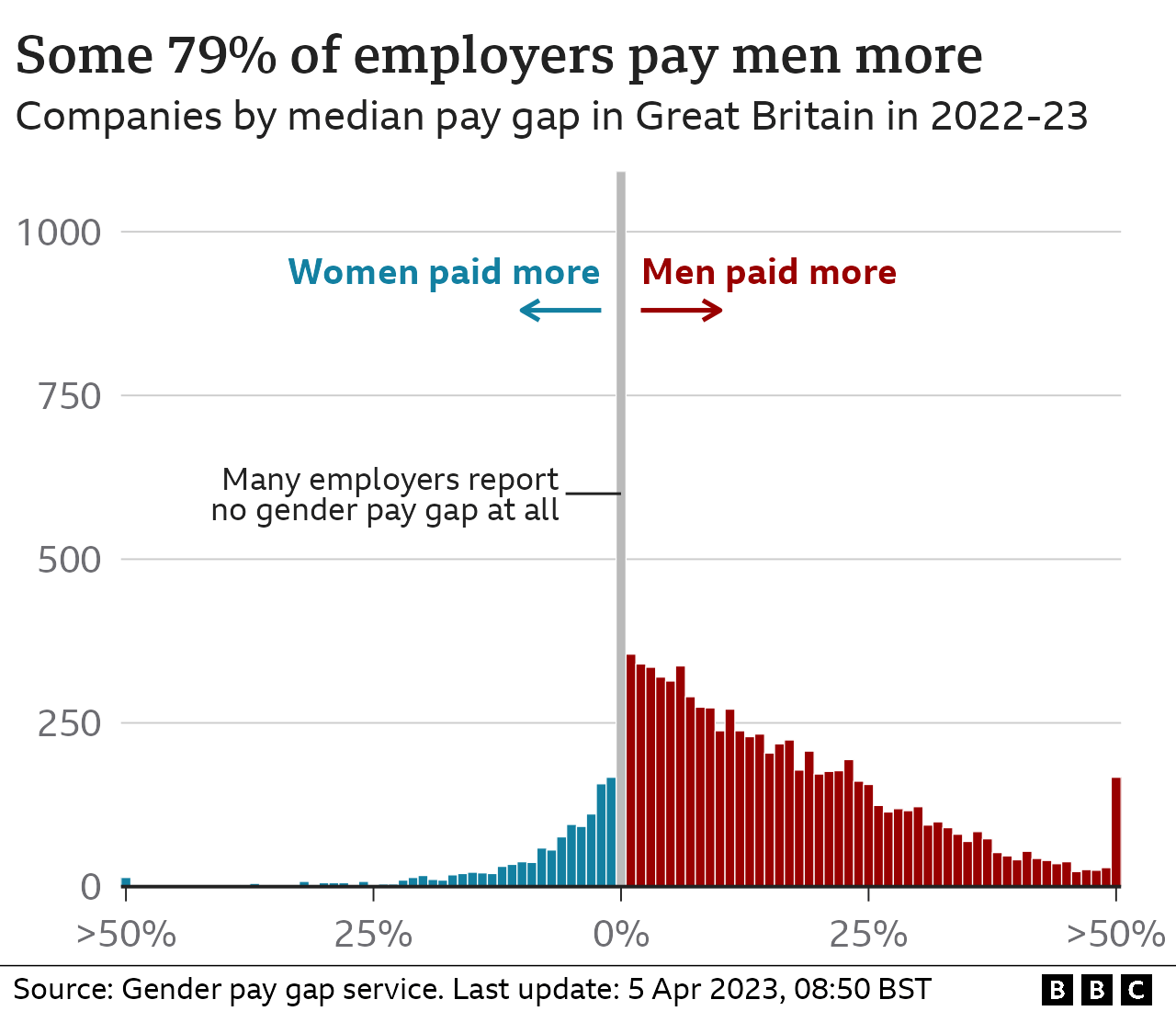 While the difference was lessened in the construction industry by 2.6 percentage points, it remained remarkably uneven, with the average woman getting 78p for every £1 earned by a man.
Several companies, such as Airbus Operations (17.7%), Azebra Pay (16.9%), and DHL Services (12%), pay women more than men.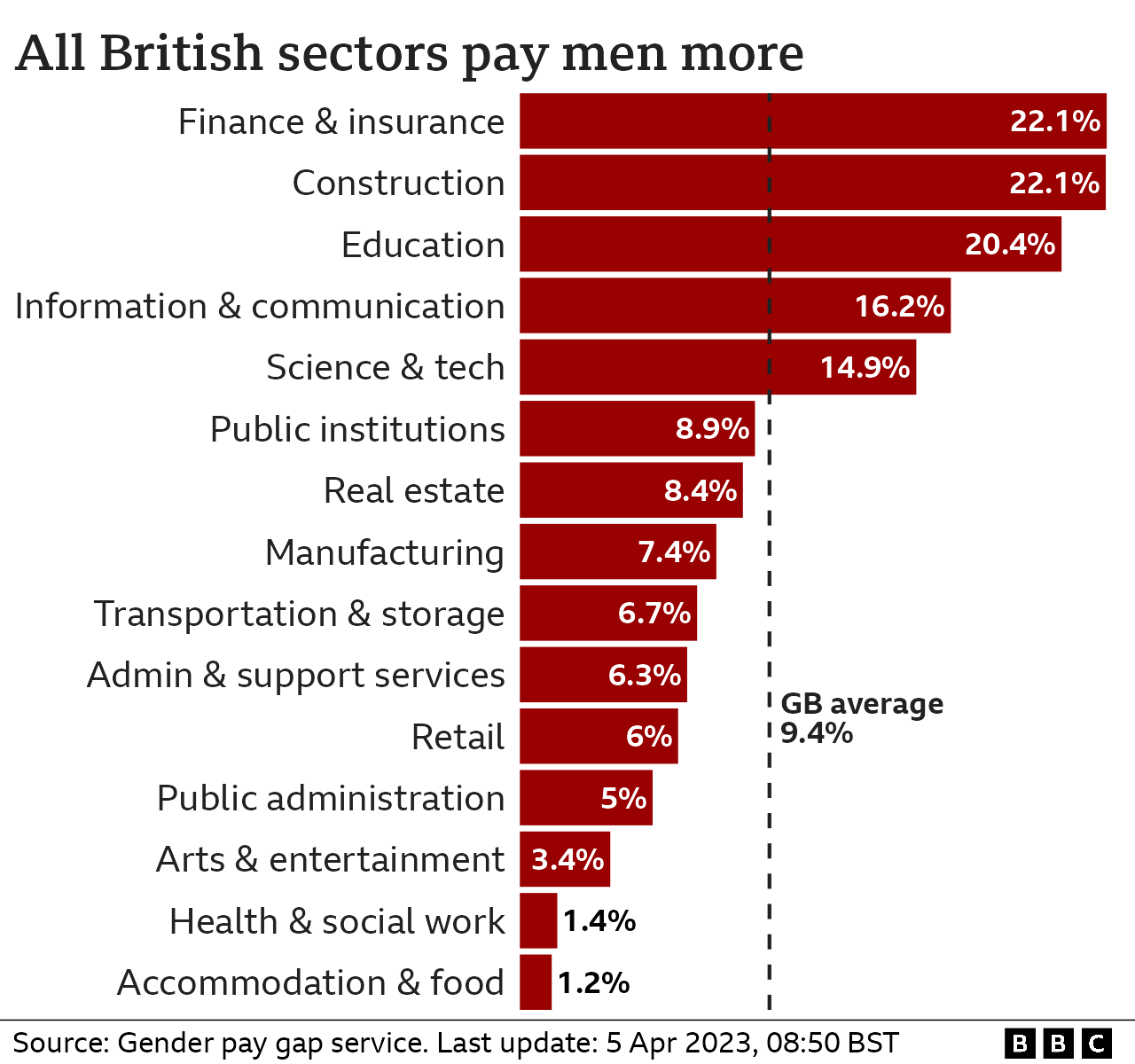 The gender pay gap has, nevertheless, widened in several industries.
For instance, it rose by 0.8 percentage points in education.
According to Jemima Olchawski, chief executive of the Fawcett Society, every business must develop an action plan outlining how they will advance gender equality at work.
Revealing salary disparities is a good first step, but she said that action was also important.
Major corporations like Easyjet, the Lloyds Bank division, and Savills have some of the biggest pay inequalities between men and women.
Despite an increase from the previous year, women at Easyjet still receive only 53p for every £1 earned by men.
The fact that more males than women are interested in occupations like hers is one among the challenges, according to Easyjet pilot Mona Abdelatti.
"Most people think it's a huge deal when they see a female pilot," she remarked.
"What I would tell is that unless you love it, don't make the commitment, just because it is so much money," she said, acknowledging that the training was an investment.
Five tips when asking for a pay rise:

1. Choose the correct time - By alerting your manager in advance that the conversation is about compensation, you increase the likelihood that it will be fruitful.
2. Provide evidence - Be specific about your accomplishments that have earned you a raise and your future goals.
3. Be self-assured - Recognize your value and strive to avoid the stigma associated with compensation discussions. Get guidance from a mentor.
4. Have a budget in mind - Be reasonable and take a look at the salaries that other, comparable positions are being listed with.
5. Persevere. If the answer is "no" this time, keep the lines of communication open. Can you negotiate a longer vacation or more flexibility?