Sexuality, jobs and hope for the future were the big topics at Newsbeat's debate in Birmingham.
Eighty 16 to 22-year-olds shared their views on life as Generation Z.
It followed a survey carried out by Ipsos for Newsbeat, which revealed some in older generations view them as lazy and selfish.
But more than 1,000 people from Generation Z told us they care most about family and education, not celebrity and social media.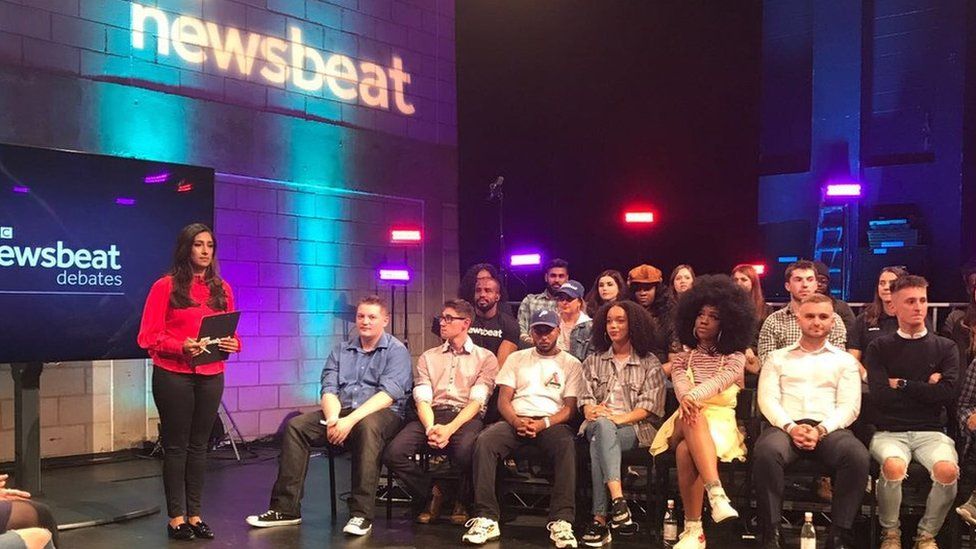 Newsbeat also asked 2,004 23 to 71-year-olds how they view people younger then them.
Here are some of the main findings and reactions from the debate, hosted by Newsbeat's Tina Daheley and Nick Rotherham.
Sexuality is viewed differently by Generation Z.
According to the survey, two-thirds of 16 to 22-year-olds are "only attracted to the opposite sex."
This compares to 88% of baby boomers and 85% of Generation X.
"This is the first time I've ever admitted it in public: I'm bisexual," said Andy, 16, who came out during the debate.
"It's been extremely difficult for me because there is so much stereotyping."
Like Andy, almost one in 10 in Generation Z say they're "equally attracted to both sexes".
"It's not something I can change," he explains.
"I truly believe it's the way I was born, and I'm sick of people telling me I have to be a different way."
Other generations are unaware of what is most important to them.
While older people think social media, going out and the internet are the most important things to 16 to 22-year-olds right now, Generation Z has a different set of priorities.
The Newsbeat research suggests family, partners and education are the most important things to them.
The cost of going to university is a big concern for many.
"It's shocking the amount of money we have to pay to be educated in this country," Chidera Eggerue, who blogs as The Slumflower, said at the debate.
"I studied fashion design and development at uni. It was going great until I got to final year and realised my mental health just wasn't up to par any more.
"I ended up failing the course, but I've got to pay all that money back, and the money accumulated comes to the cost of a brand new shiny Range Rover, that I can't afford."
Generation Z is upbeat about its own prospects and future.
Despite older people being pessimistic about the future for Generation Z, the people most positive about their own future are 16 to 22-year-olds.
Among baby boomers, 54% thought their lives will be worse.
But only 41% of people actually in Generation Z agreed.
"I'm super optimistic [because] as soon as I graduated on Friday I was in a job," 22-year-old Michelle said during the debate.
"I work hard. Through uni I did two, three jobs in retail, I did bar work, and then did placements.
"It's so competitive. It's not luck, it's grafting."
But 17-year-old Faye says low wages make it difficult to plan for her future.
"It's so disheartening with the minimum wage being lower for 16 and 17-year-olds. I work at a children's theme park and I get paid £4.60 an hour.
"I'd like to say I'm optimistic, but it's very unclear and we don't get a lot of guidance."
Social issues rank higher for younger generations than for older generations.
The different generations were asked about the most important issues which need to be addressed in Britain.
All ranked improving the NHS, preventing acts of terrorism and making the economy work after Brexit in their top three.
But there were notable issues which under-22s listed as more important - including prejudice towards LGBTQ+ people, gender equality and racism.
Facebook is the most popular social media platform among Generation Z.
The research suggests three-quarters of Generation Z uses Facebook with Twitter way behind on 44%.
Emily, 17, says it's not just for connecting with friends - but also building your career.
"A lot of people use social media to plug their businesses. We're not just using social media for our own vain reasons."
YouTuber Elias Riadi agrees.
"Social media is a positive. It's shaped my career. I don't have a CV. I use Instagram as a CV."
While most 16 to 22-year-olds use Facebook, they're much more likely than older generations to use Instagram (59% compared to 21%), Snapchat (56% compared to 9%), Tumblr (17% compared to 3%) and Twitch (13% compared to 2%).
"We're making ourselves more creative to find those ways to get into work," says 22-year-old Adrian.
"So if it's not the traditional ways, we're going to get more creative and go to Instagram, Twitter, we're going to go to Facebook.
"I don't think we're lazy, we're innovative."
The Ipsos research is based on replies from 3,007 people - 1,003 from Generation Z, 660 people in Generation Y, 667 in Generation X and 677 baby boomers.
Current leaders must embrace Gen Z's unique position as they start their careers and work together to reach their highest potential. Gen Z has the confidence and technological intelligence but there's one critical thing they lack, as all those who are new to the workforce do: experience in solving real-world problems. Older generations' experience, paired with Gen Z's creative and innovative ideas, provide boundless opportunities–not only in the supply chain, but in every other industry as well.