A wheelchair user has been left to crawl down metal stairs from a Ryanair plane at Landvetter Airport in Sweden after no one was able to assist him with disembarking. Adrian Keogh, who has a spinal injury from a construction accident, was travelling with his brother and was told that assistance would take an hour after the flight landed. When cabin crew told him that he could crawl down from the aircraft instead of waiting, he decided to do so himself, rather than waiting in pain after the flight and needing to use the bathroom.
Ryanair denied that its crew told Mr. Keogh to crawl from the aircraft. Landvetter Airport has apologized for the incident, blaming "several unforeseen events" for the delay in assistance, while Ryanair has said special assistance at the airport was provided by a third-party service provider, and the airline was looking into the incident.
Mr. Keogh, who has been a wheelchair user since 2015, said that air travel could sometimes be frustrating, and this was not the first time he was stuck on a plane after everyone else has disembarked. He added, "It's unacceptable - all I ask for is to be able to travel with dignity." The incident was described by James Taylor, CEO of disability equality charity Scope, as appalling, and highlighted that disabled people are often failed by airlines and airports, causing degrading, stressful, and anxiety-inducing experiences that stop some from traveling altogether.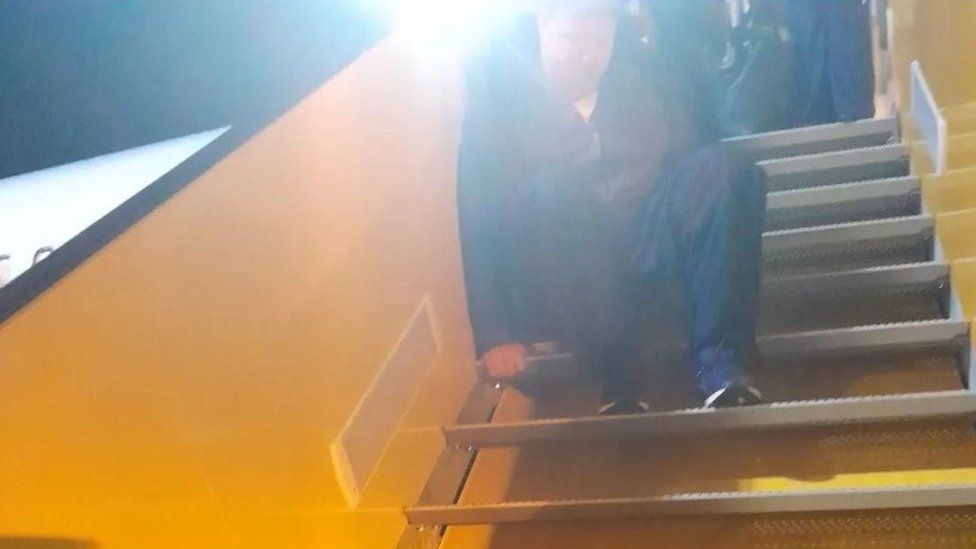 The UK government recommends that passengers request assistance through their airline, tour operator, or travel agent at least 48 hours before travel. If a passenger has not pre-notified, assistance will still be provided, but the waiting time may be longer. If things go wrong and the passenger is unhappy, the Civil Aviation Authority recommends that they take their complaint directly to the airline or airport. If dissatisfied, passengers can refer their complaint to an alternative dispute resolution body that provides alternative methods, such as mediation and conciliation, instead of going to court.
The incident highlights the importance of providing better accessibility and assistance for passengers with disabilities and ensuring that airlines and airports adhere to the guidelines and regulations in place to prevent such incidents from happening in the future.